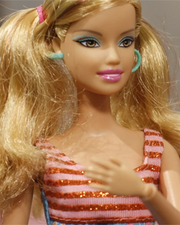 ' '
Byeeeeeeeeeeeeee!!
                                                                                    -Shay
Is a former OP cheerleader. she is popular and is rivals with the cheersquad.
She used to be bffs with Rachel Tice,Brittnay Mathews, & Mackenzie Zales
until Mackenzie stole the head-cheerleader position she wanted.
age;16
voice; Andrew Delman
status; single
sexual orientation; straight
birthday: March 19th 1998
Personality
Edit
She's a selfish,stuck up,honest, brat. She loves to pull a classic by putting a lot laxatives in peoples drinks and shakes. She steals ideas to ruin Jenna by naming movies such as Mean Girls,She's All That, Samuel Jackson movies and Home alone 2 She's also friends with Saison Marguerite.Talking in the bathroom and lockers. She was also on her Babes Having Babies episodes.
Appearance
Edit
2012 Babrie fashionista Summer doll
she & Than went to prom togther.
Ex friends with the cheer squad
Doesn't have blue eyes like her family does.