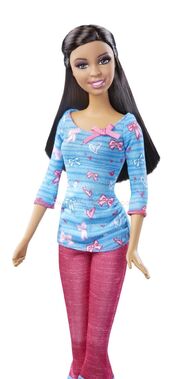 Mrs.Monica Derringer-the mother of Matthew Derringer, aaliyah Derringer, and Ciara Derringer.
She is also friends with Trisha Capelletti's mother, Trish. She also thought that the parent and teacher
conference was about the race of her son and his girlfriend.
Personality
Edit
She is a bad-tempered, overprotective, untolerant, serious mom.
She can sometimes be clumsy. As she fell when she was walking with Matthew Derringer to the restroom. She is overprotective because she knows people at Overland Park are Special. She also thinks people make fun of her son's birthdiffect. As she was taking the wrong medicines during her unknown pregnancy.when she had Matthew she was full of so much guilt for him not being able to live a life of a teenager or regular boy.
She is also bad tempered as she cussed out Mr.Mac because she thought he was against her son and Trisha's relationship. she didn't apologize claiming It's Thursday,I have a job and us parents.MAY have s**t to do! ripping off the movie ​​FRIDAY's openening line.
Appearance
Edit
She wears a pink and white ribbon long-sleeved shirt & pink bottoms.
She has brown eyes like her daughters.
She is the reason Matthew has no testies or genitals
She has three kids like The Van Buren sisters and Jayna Van Buren
She is 33 years old
she has the same doll as her daughter Aaliyah.
She didn't know she was pregnant with Matthew.
She is a nurse