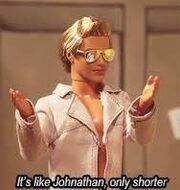 '
It's like Jonathan,only shorter'
                                                                                                     -Than
He attends Overland park high school where he is often annoying to others.
He is on the Football team and isnt sure if he's Bisexual or Gay. His birthday is May 23rd 1997.
voice: Mark Cope
age:17
gender: Male
status: single
team: Overland Park football team
sexual orientation: Gay/Bisexual (?)
first appearance: episode 4
last appearance: episode 61
Personality
Edit
Despite trying to be a bad boy he is sensitive and friendless. He's tried everything to be popular (nicknames,attitude change up,act hip,dress in jackets only.) Whenever he tries to talk to the football team they have negative words towards him and he replies "This is why you(him) have no friends. 
He is denial about being gay. He does homosexual things,says them, and acts gay. 
But it's not very accurate if he's gay or just bisexual as he dated and kissed and slept with Brittnay and dated Jenna Darbond. He didn't know what bisexual was until Jenna told him about her sexuality.
Appearance
Edit
Doll type: Mattel 2011 Barbie Fashionistas Wave 2 Cutie Ken
outfits;
Jeans,A tan jacket with no torso, sunglasses.
He took Shay Van Buren to prom 2012
The Van buren sisters and Football team have told to to kill himself and get lost (before he joined the team)
He nicknamed himseld "Uncle Jesse'' after the Full House charcter