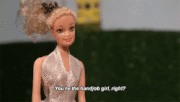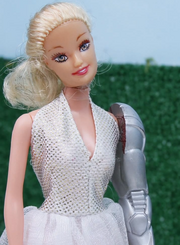 I want to poop here. Whenever I want for as long as I want
                                                                             -Deandra,The New girl
Deandra is a student,football player, former cheerleader (Atchison and Overland Park) and sworn in cousin of the Van Buren sisters.  She is new to Overland Park and moved from Atchison,Kansas which is North of Topeka and west of the 71. She is a handspring specialist (used to be) for Atchison until
her Whoopsie Poopsie accident. 
Age; 16
voice; carlo moss 
gender;female
status: single 
first appearance;episode 1
last appearance;episode 61
Personality
Edit
She finds revenge pointless that the girls always set on revenge. She's barely vain about her looks and place
She can be tough and brave despite wearing femenine attire. She is a huge tomboy.
When she had no prospect of being a prom queen her attitude change when she was nominated. I'm gonna be prom queen! I'm gonna be prom queen! Suck my *ick. Suck my *ick. I did it! I did it! But she ended up as second runner-up which aggrevated her because she didn't only not know what it was but she was expecting pity votes for losing her arms. I got my arms ripped off for second runner-up? This is some bulls***! This wouldnever happen at Atchison.
She is shown to be a bit disloyal since she worked for the Van Buren sisters and cheerleaders, who strongely hate each other. It miht be due to her indecisiveness choosing all options both!
She loves eating and singing while taking her poops.
Appearence 
Edit
Doll: Ja Ru Toys Fashion Girl Doll
Clothes: Brown Boots from Shay Van Buren.  For most of the sereies she wore a white Marilyn Monroe styled dress. While cheerleding she wore the original cheer outfit and while football she wears the team jersey. She has blonde hair in different styled ponytails.
She is the only female on the female on the football team
She is a registered mid-wife
She is the first guest on The Trisha Show
She has no romantic interest toward anyone 
Her name begins with an A,B, or C.
She's an honorary member of the Van Buren family
Arms Accident
Edit
In episode 11, she has her arms ripped by the two rivaling cliques in school
She was able to run in the paralympics, losed weight and and believed losing her arms would gain her pity 
votes and she'd win prom queen.