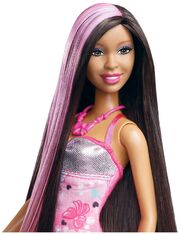 Aaliyah Derringer-the first born child of
Mrs.Monica Derringer
. Older sister of Matthew Derringer and the baby.
She is in Ashtech University. She is studying to be a fashion designer & interior designer. she is also a part-time model. but her hobby is being a photographer. She is close friends with Taylor from the Atchison Cheersquad.
Personality
Edit
Appearance
Edit
She wears a pink and silver spaghetti strap top. She has A light pink streak in her hair and brown eyes like her mother.
.She is BF's with Taylor from Atchison Cheersquad
.She is older than Matthew
.She is 21 years old
.She and Mackenzie are frenemies